Copyright American Sniper Association 2022
ALL PRICES LISTED INCLUDE US POSTAGE AND
HANDLING ONLY! PLEASE CALL OR WRITE FOR
INTERNATIONAL SHIPPING COSTS.
Notice: Access to training materials is restricted to qualified
personnel only.
ASA Baseball Cap
Pictured here is the ASA baseball cap. They are 100% brushed cotton. The
embroidered ASA logo is in
subdued colors. Available in OD
only, and fully adjustable.
$29.00

Intermediate Barriers DVD Set
Glass Shooting Training.
This is the first
installment in a series of DVDs ASA will be producing
which examine the many facets of dealing with
intermediate barriers. This DVD focuses on showing
the sniper the types of glass he will encounter in
most residential and commercial construction, and
how each behaves when struck by a high velocity
rifle bullet.
Intermediate Barriers: Specialty Glass.
This is the
second installment in a series of tapes ASA is
producing, which examine the many facets of
dealing with intermediate barriers. This DVD
focuses on showing the sniper a variety of special
glass applications, including bullet-resistant glass,
aircraft windshields and hurricane glass. Each glass
type is shot by ammunition specially designed and
intended for heavy barrier penetration.
$30.00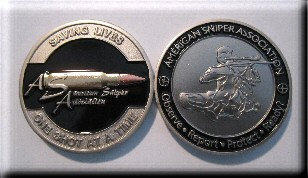 AVAILABLE NOW! - POLICE SNIPER
TRAINING AND OPERATIONS - Vol. 2
The long awaited sniper training manual update
from the American Sniper Association is now
available. Containing over 100 pages of new and
updated material, the Police Sniper Training and
Operations is the most unique book ever made
available for the law enforcement sniper. Published
by WIISAD Books, we are now accepting orders. The
manual is only be available through limited outlets.
Price is $52.00, which includes shipping costs (within
the US). Order directly from Snipercraft.
This manual cannot be ordered online. Please send
check or money order made payable to Snipercraft.
DO NOT order with other ASA items.
$52.00
American Sniper Association
Tactical Disarming DVD
This video takes a critical look at the
possible outcomes of using this
controversial and dangerous tactic to
resolve armed standoffs. Any agency
looking for graphic evidence of the
practicality of shooting guns from the
hands of individuals must have this
DVD.
$25.00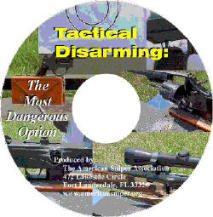 ASA Challenge Coin
ASA Challenge Coins are back in stock.
$22.00